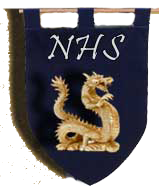 Col. Edward "Ned" Burton Degroot
Narimasu High School Class of '59
Cancer, Dec 31 2006
Col. Edward Burton "Ned" DeGroot III (Ret.), 65, died Dec. 31, 2006 after a long, courageous battle with cancer. He was born May 15, 1941 in Lawrence, Kan. to Edward Burton Jr. and Ruth Evans DeGroot.
DeGroot graduated in 1967 from UCLA, where he played on a national championship volleyball team. He went on to earn his Master's Degree from the University of Northern Colorado.
DeGroot proudly served in the United States military, wearing the uniforms of four branches. While attending Roosevelt High School in Honolulu, he served in Army ROTC. After high school, he enlisted in the U.S. Navy and served as a corpsman attached to the Marine Corps. Upon discharge from active duty in the Navy, DeGroot attended UCLA and enrolled in Air Force ROTC, receiving his commission upon graduation. He served 24 years in the U.S. Air Force as a Medical Service Corps Officer and retired as a colonel in 1989.
DeGroot was a veteran of the Vietnam War and a Life Diplomate of the American College of Healthcare Executives. He was a member of St. Andrews Lutheran Church and proudly served as Worshipful Master of Ribault Lodge No. 272 in Jacksonville Beach.
DeGroot is survived by his wife of 42 years, Amelia (Em) DeGroot; four daughters, Jamie Trayner (Richard), Tanya Ferranti (Jerry), Paige Murtagh (Ryan) and Melissa Batz (Brad); two brothers, Donald DeGroot (Lillian) and David DeGroot (Annette); and four grandchildren, Kylie and Brooke Ferranti, Owen Murtagh and Reagan Trayner. Another grandson, Brady Batz, is due to join DeGroot's family at any moment.
A Memorial Service will be held at 3 p.m. Saturday at St. Andrew's Lutheran Church, Jacksonville Beach. For those who prefer, donations may be made to The Leukemia & Lymphoma Society or the Building Fund at Ribault Lodge No. 272, Jacksonville Beach.
The family expresses its heartfelt thanks to all of DeGroot's caregivers at the Mayo Clinic and St. Luke's Hospital, especially Dr. William Maples, to whom he often referred as the "conductor of my orchestra."
Services under the direction of Quinn-Shalz Family Funeral Home, Jacksonville Beach.
If you have a memory or rememberance for Col. Edward "Ned" Burton Degroot, class of `59, please send to:Linda Plummer
or
Keith Shaver