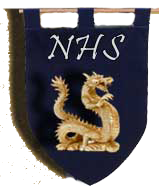 Walter Gregg Young
Narimasu High School Class of '53

Graduation
U.S. Air Force 1955 – 1979
Highest rank: Master Sergeant
Jobs In The USAF:
Overseas: American Forces Radio &
Television Service.
Stateside: Hospital Administration.

Today
Awards and decorations: Air Force Commendation Medal with one Oak Leaf Cluster, Air Force Outstanding Unit Award with one Oak Leaf Cluster, Vietnam Service Medal, Republic of Vietnam Campaign Medal, National Defense Service Medal, AF Good Conduct Medal with 4 Oak Leaf Clusters, AF Longevity Service Award with 4 Oak Leaf Clusters.
Most memorable military Experience: There were several. One was trying to be a single parent in an Air Force who disliked Single Parents. Starting when the children were 2 1/2 years and 14 months, we some how defied them all and survived 25 years in the USAF.
While stationed in Thailand, I requested a 6 month extension. It was rejected so I returned to the States in Oct 69. The following April (Apr 10, 1970) a fighter aircraft returning from combat missed the runway, went through the Nurses quarters and came to a halt right on top of our Radio and TV station. Ten members were killed, 3 who I knew, one was my replacement.
What plays on my mind heavily, another was a man who wanted into Broadcasting so bad he could "taste it" and he was good at it. I submitted paperwork and pulled some "strings" and got him transferred to Broadcasting and to the very station where he was killed. Had I received that extension, I would have been on The Wall along with the other 10. Fate does strange things to our lives.
Retirement Ceremony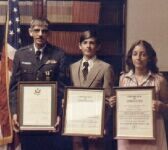 Walt, Gregg Jr. & Juanita