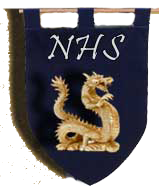 John Kessel
Narimasu High School Faculty

USN and USMC
Highest rank:Pharmacist's Mate 3/c
Branch and dates of service:USN/USMC 1943-1945: [28th Regt Fifth MarDiv]. I was pleased to be able to wear two WW II uniforms, one being that of the USN, where I became a hospital corpsman, and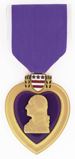 the other the USMC greens, when I was selected for Field Medical Forces. Entering into Marine life, I wore the Fifth Division Spearhead shoulder patch and was awarded a Pharmacist's Mate "crow" to wear with it.
Awards and decorations: Purple Heart, Asiatic-Pacific ribbon, combat ribbon and others issued in that era.
Most memorable military Experience: My best memory is that of being a part of the 40-man squad assigned to working its way to the top of Iwo Jima's Mt. Suribachi on 23 February, 1945, in the Volcano Islands. My parents seemed proud to learn later that I had volunteered use of my camo poncho for our chaplain's using it over a hastily-arranged altar of lava rocks when we followed our flag-raising with a brief service commemorating the event that morning
When I reached SFO and a military receiving hospital, off the hospital ship USS BOUNTIFUL on Navy Day in 1945, all I owned was on my back –my green USMC dungarees. I found the Marine rear echelon quartermaster at the receiving unit wouldn't issue me my needed Marine 'Greens' uniform –and the navy issue room in turn refused to issue me my navy blues. So I hopped a streetcar and chanced going into downtown SFO in the dungarees and at a uniform shop still open in the late evening outfitted myself with a set of tailor-made blues with my Fifth MarDiv patch sewn onto the left shoulder and my white navy crow with Ph.M. badge just below that. Topped off my ensemble with a nice new white 'swabby' cap and scuttled back to the hospital at Genessee and Moscow Street to reach my bunk before bed check. Although in the shape I was in at that time I doubt things would have been ugly for me if it had been discovered I'd been technically AWOL for part of the evening. Anyway, by that time of my long journey back from the USN Hospital at Guam I didn't much give a hoot.
Looking back over my career as an instructor, I next most favor the memory of having been able to devote nearly 30 years in another government branch–the Dept. of Defense Overseas Dependents Schools program, which I considered the most useful way to spend the life I was spared after combat.